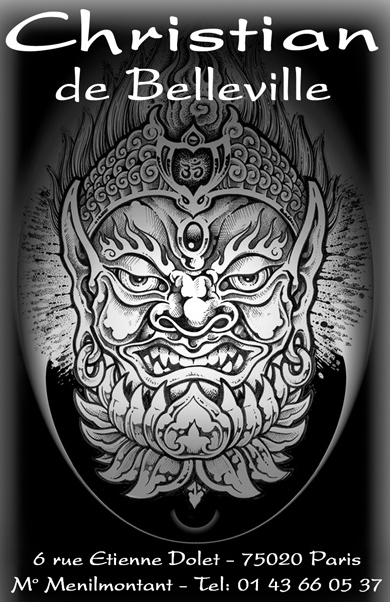 Christian est un tatoueur formé entre Londres et Hong Kong, exerce depuis 1985 dans le quartier de Belleville à Paris .
Travail uniquement sur rendez-vous qui sont donnés lors de votre passage au studio pour exposer votre projet.
Pratique l'art du tatouage dans le respect de la tradition.
« Tatouages d'Amour et de Guerre »
Ne travaille qu'à la réalisation de tatouages uniques.
Création de projets personnalisés selon vos idées.
Conditions de travail hygiénique, matériel à usage unique.
Christian is a tattoo-artist who has leant his craft between London and Hong-Kong and has been working since 1985 in the Belleville quater of Paris.
He only works on individual, unique tattoo and creates projets from your ideas.
The traditional art of tattooing is respected, with the highest standards of hygienne.
A rich palette of color for « Love and war Tattoos »
Appointements can be made after discussion of your tattoo project.